twofive-two
Fruits and vegetables
We offer throughout the year a wide range of fruits and vegetables, mainly cultivated in France, that we select strictly each morning at the Marché d'Intérêt National in Strasbourg.
During the harvest period, we give a priority to authentic products and support local food network thanks to partnerships with local producers using integrated agriculture.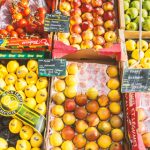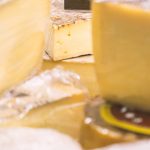 Cheese
Our wide range of artisan raw milk cheeses comes from a cheese ripener based in Rungis who gives pride of place to passionate producers and offers exceptional cheeses during the holiday season.
We offer a permanent range of cheeses sold by weight, enriched by a periodical selection over the seasons, such as Mozarella di Buffala, Raclette cheeses, Mont d'Or, Tomme au Marc de Raisin or Brie à la Truffe.
Gourmet cheese platters for an aperitif, a cheese meal or as a meal conclusion: the cheeses are chosen based on the season and specific customer demands and placed on wicker platters embellished with fresh or dry fruits. Each cheese is identified.
Delicatessen
A small range of delicatessen: a permanent range of soups, chutneys, honey, dried fruits, hand-crafted apple juice, saucissons secs, terrines, dried mushrooms, vinegars and oils available throughout the year, as well as gastronomic products during the holiday season.